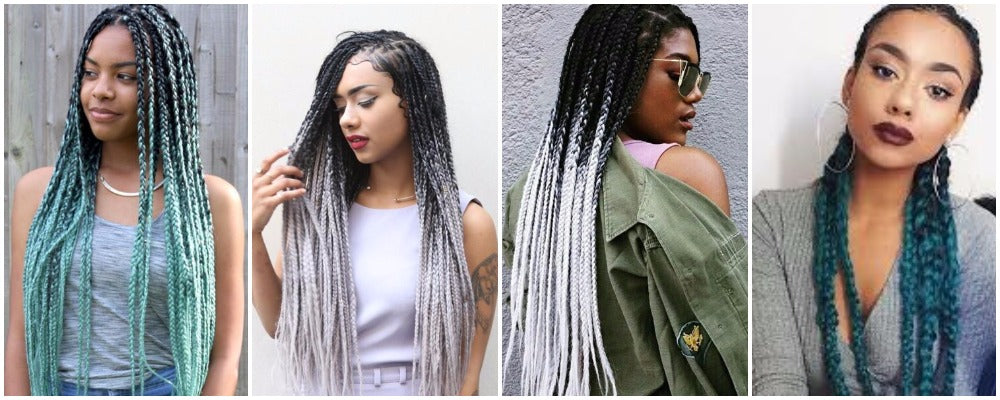 When mention to black women, we think of awesome braid hairstyles instantly. This is a beautiful culture of blacks people in the past and nowadays, hairstyles are becoming more diverse and modern to suit lifestyle and costumes. If you are fan of braid hairstyle, do not miss out on some of latest braid hairstyles in Nigeria 2017.
1. Bob braid
Bob braid is the latest hairstyle today because this hairstyle is easy to do and can fit many different shapes of faces. When the braid are tight well, it will make a bob form for your hair. This hairstyle can be long to the chin or the shoulder. This hairstyle has many different change and each kind is awesome in its own wau. you can try another style of it like bob braid with bang or long bob with thick braids.
Many form of bob braid hairstyles in Nigeria
2. Kinky twist
This is the hair style made with kinky curly hair and your natural afro hair. Two of them when braid together will brings to the woman extremely gorgeous looks. So it is not difficult to understand that this hairstyle is one of the latest braid hairstyles in Nigeria. This hairstyle can be combined with the hair extension curly super double to get extra volume for your hair. The bigger the hair, the better the look. There is a similar hairstyle that people also like, it is Senegalese twists, which is known as rope hair because it has smaller curls and braid like ropes.
Kinky twist is very easy to make but very beautiful
3. Ombre braid
This is a really impressive hairstyle that can not be ignored when referring to the latest braid hairstyles in Nigeria. Unlike normal omber when the hair was dye and faded and change color, this sytle was made by the way we braid hair. To create this style, you need to use a different hair extension color with your hair and combine it gradually. This hairstyle will definitely help you to attract all the looks.
Ombre braid is really beautiful and suitable with cool girls
=>> RELATED TOPIC: CHEAP HUMAN HAIR EXTENSIONS IN NIGERIA FROM KING HAIR EXTENSIONS - VIETNAMESE SUPPLIER
4. Sideways corn rows
This is another style of style cornrow / plaits, but more popular by many celebrities use as Beyonce or Michelle William. The corn rows will be smaller and will be one sided. Just like normal braid but this hair focus on braiding on one side of head, this make girl looks so hot.
Need long time to make but this hairstyle is awesome
5. Crotchet Braids
Crotchet Braids is very popular in Nigeria because it is also very easy to do and look beautiful. You can do it with hair extension curly super double and combine it with your hair. This hair style really awesome when you come to party with your friend.
Crotchet braid is one of popular style in Nigeria
All of latest braid hairstyles in Nigeria above all need use a big volume of hair to make it more pretty. If you consider where you want to buy hair extension to build big volume, just contact to us to get more advice and get a cheap price. King Hair Extensions is top company in Vietnam, who have over 3 year in distributing cheap human hair extensions in Nigeria. We supply many kind of hair: straight, wavy, curly, funmi,...All was made 100% Vietnam human hair, really soft and silk. Our product sell very well in Africa market, especially in Nigeria. If you want to be distributor, contact to us right now!
One of best-selling product in Nigeria: 18 inch funmi hair super double drawn
Thank you for visit Vietnamese Natural Hair Blog today! Check out every day to get more information!
Written by Eric