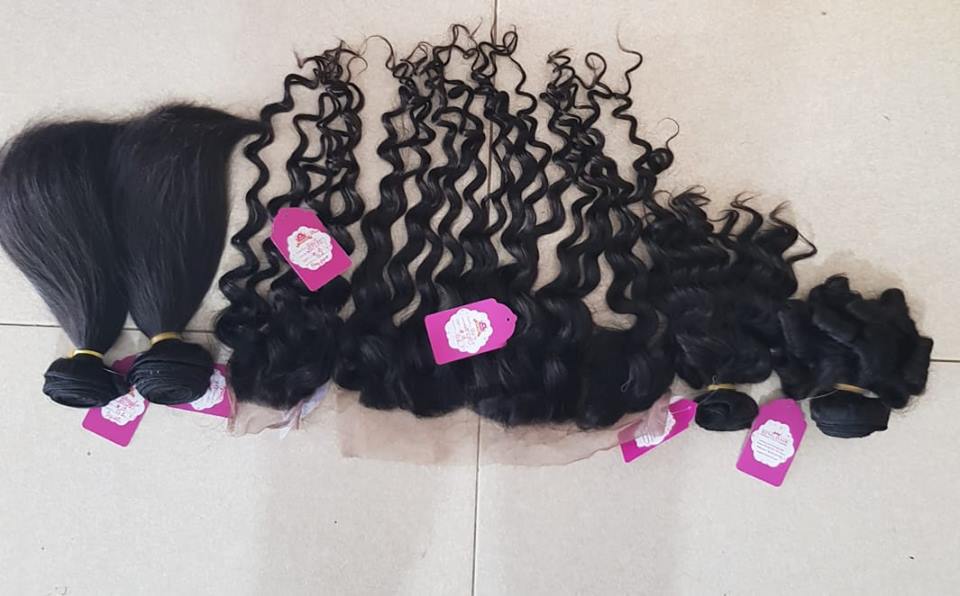 In recent years hair weaving has become the dominant player in the market for hair extensions. There are many hair suppliers in different countries. Over time, the demand of customers for the supply is gradually changing. Instead of choosing hard, dry Brazilian or Peruvian hair bundles, consumers switch to products. hair products from Asian people. Vietnamese weave hair is the first choice in the market and especially in the African market. Why is Vietnamese hair weaving so popular? Please follow this article of us to receive the answer
1. First, you need to have knowledge of Vietnamese hair weaving.
Vietnamese hair is the original hair that is collected mainly in the mountains and rural areas of Vietnam that have not been affected or affected by any chemicals. After collecting, it will go through a process of cleaning, filtering. tangled and then put into production.
2. What characteristics make hair weaving popular in the African market?
2.1. Vietnamese straight hair is thick and silky
Regarding the thickness and smoothness, we can confirm that there is no hair that can be compared with Vietnamese hair. The natural hair of Vietnam is mostly straight hair, natural wavy, with naturally curly hair is very rare, As for the curly hairstyle is created by hair suppliers to meet the needs of consumers.
With two natural colors, black and natural brown, this weave is suitable for the needs and preferences of African women, especially in some markets such as Nigeria, Ghana, and Cameroon. Remy's hair is Vietnam's largest consumer
Besides natural hair colors, Vietnamese hair is healthy enough for you to dye, style to your liking only if you have a reasonable care regime.
22 inch Good Weave Hair Extensions – Double Straight
2.2. Vietnamese hair is soft and silky.
The weather in Vietnam is not as hot as India or the cold is as harsh as the winter of China. Hot or cold weather will make the hair become dry, more fibrous. Because the weather is not too hot nor too cold, Vietnamese hair becomes sleeker. Especially they use natural products for hair care. Because they know that natural products are one of the least damaging products that make hair both soft and strong.
Vietnamese women always love natural hair and in their minds, natural hair symbolizes a gentlewoman. The woman with long silky hair and a long dress is a symbol of Vietnamese women
2.3 Long term use
Thanks to the hair care routine, hair is always nourished. Vietnamese straight hair weaves can usually be used for 3 years or even 5 years if you know how to take care of them properly.
Too much styling or regular hair removal will quickly destroy the structure of the hair. Therefore, in the process of using your hair, you should keep the appropriate time between 2 hairstyling or limit bleaching, dyeing and use heat regularly to keep the use of hair longer.
3. Weaving hair products of Kinghairextensions
What I mentioned above is a feature of Vietnam Remy hair weave. Our extension is Remy hair unlike Chinese or Indian hair, our hair is completely natural unused You should not compare fake hair on one side of good quality hair to the other on chemically treated hair.
All of our production processes have been rigorously processed, ensuring that you will have no trouble using our products.
Moreover, our products are very diverse including many different types of products, each divided into several smaller categories. Our products are manufactured based on the actual needs of customers and in the production process are carefully in each stage.
Moreover, with the variety of products, our products are based on the actual needs of customers and the care in each stage of production.

In addition, Kinghairextensions's hair is of high quality with long-lasting use. limiting the use of chemicals in the manufacturing process of your product creates as many designs as you want. In particular, your straight weave is sold cheap hair weave.
For the first order, if you do not believe in us, you can order a number of bundles to check the quality first. We are confident with our products but careful is necessary and we know it.
On all characteristics of our company straight hair weaving in particular and of Vietnamese in general. Thank you for reading and following my article. Stay tuned and support my article in the future.
With all the characteristics of our weaving styles in particular and of Vietnamese people in general, we hope you will choose the right supplier for your needs. Get other useful information.